About
ABOUT IONA MILLER - WRITER, ARTIST, THERAPIST, SPYWHISPERER
FREE RADICAL: Iona Miller, consultant and transdisciplinarian, is a nonfiction writer for the academic and popular press, hypnotherapist (ACHE) and multimedia artist. Her work is an omnisensory fusion of sacred activism, intelligence reform, esoterics, science-art, chaos theory, pop physics, and emergent paradigm shift melding experiential psychotherapy, future science, biophysics, resonant space, philosophy, cosmology, healing, creativity, articulated and tacit knowledge, qabalah, magick, paranormal, media ecology, mind control, paramedia, metaphysics, and cultural filters.

CHANGE AGENT: Rather than having an interest in specific doctrines, she is interested in the transformations, the EFFECTS of doctrines from religion, science, psychology, politics and the arts. Our beliefs are the moldable raw material of the psyche, manipulated by governments, media and culture. How do we become what we are and how is that process changing in the near future?
META HARI: Performance artist and spywhisperer, Ms. Miller is published by Phanes Press, Destiny Books (Inner Traditions), Autonomedia, Nexus Magazine, Dream Network, PM&E, Journal of Nonlocality and Remote Mental Interactions (JNLRMI), Chaosophy Journal, OAK, DNA Monthly, Pop Occulture, Schiffer, Bolero, Science-Art Research Centre, and more. She is a Gaia.com Ambassador and serves on the Board of Medigrace.org nonprofit organization. Recent print articles include Alchemy Journal Vol. 10 No.1, Mar 09 (Australia), Paranoia zine #44, #46, #49, #50 (USA), HunterGatheress Journal, Vol. I and Vol. II, JNLRMI (Russia), Der Golem (Germany), Antibiothis I and III (Portugal), The Art of Fetish (Miami), and Journal of Interdisciplinary Crossroads (India). Her artwork has shown in Miami, Phoenix, New York, in magazines and more. Appearances include "21st Century Radio," "Untamed Dimensions," "Reality Portal," " Digital Long Island," "The Ascending Way," etc.
"All are lunatics, but he who can analyze his delusion is called a philosopher." - Ambrose Bierce (1842-1914)
Video YouTube: "Iona Miller's PSYCHOGENESIS" Art Show http://www.youtube.com/watch?v=Mc6r8BLyGBQ
The History or Story Behind My Site
"And take upon's the mystery of things,
As if we were God's spies." --King Lear
I guess I couldn't decide what to be when I grew up, so I chose All of the Above and became a TRANSDISCIPLINARIAN. I was inspired by Buckminster Fuller to be a generalist in natural philosophy, rather than a specialist.

Each of us is our own greatest creation, a frameless work of art. What doesn't inspire the artistic eye that doesn't merely "look at", but "sees through" to the imaginal depth of any given perception or experience? The soul informs the multisensory experience of being. Inspiration means life, the opposite of death: purpose, direction, meaning, ecstasy, creativity.
SCIENCE WITHOUT BOUNDARIES
ART WITHOUT FRAMES
HEALING WITHOUT WALLS
INTEGRATION WITHOUT TEARS

I'm a polymath and artist, but my medium tends to drift from psychotherapy and healing, to cutting edge science, and bleeding edge art. My interests flow from sacred geometry fine art to psychotronic technoshamanism, to ephemeral and online performance art. I write extensively on healing practices, advances in science, and the artistic and spiritual experience. Once in a while an angel visits with a brilliant idea that flows through with blissful fluency.

My expertise is in creativity and extraordinary human development. For good or evil, I am a creative geyser. In past decades I have fallen in love with painting and collage, magick, archetypal and transpersonal psychology, hypnotherapy, subquantum physics, consciousness studies, multimedia, intelligence and chaos theory. I can't "marry" any theory, since there is no consensus in physics or consciousness studies, though I argue many points of view.

Still, I've always remained faithful to my main interest: the interface of psyche and matter ~ that point where psyche matters. As in chaos theory, all the creative action is at the boundary of any field, the creative threshold, the leading edge. It is in finding meaning and expressing that meaning that we exalt our humanity in our individuation. We don't actually change but our experience of reality does and this experience is largely outside of our "conscious" grasp. This is one source of the value and meaning of art, at least challenging art that goes beyond the boundaries of the frame and sofa wall. MAKE ART, NOT WAR.

-Io "Spooky" Miller
Insight, Intuition, Self-Knowledge, Creativity

SCIENCE has made the Quantum Leap; ART has Jumped the Canvas in New Media; and HEALING has gone nonlocal with Virtual and Distance Healing.

By the time the Internet came on the scene, I already had a huge backlog of metaphysical, scientific, mythological, and therapeutic articles and fine arts graphics to share with the world. Out of the closet and into the digital archive they went at The Ionasphere, Synergetic Qabala and Asklepia. Since then I've continued building my webpresence, collaborating and publishing in a variety of venues, popular, artistic and scientific.

With the advent of the digital revolution art has jumped off the walls and into life. No longer is print art the preferred medium, as even in Soho permanent projector installations allow artists to display their art without the typical problems of shipping and receiving. Art without frames comes in a variety of multimedia formats.

When technology allowed cable tv to move from 12 channels to hundreds, the age of public access television became possible. In the '70s Sony produced inexpensive, portable video recorders, the PortaPack. Inspired by guerrilla theatre, people started seeing the possibilities of moving television out of corporate control.

Guerrilla TV has leapt forward to podcasting, producing our own radio shows with the help of mp3 players. We now have new video podcasting, iTunes selling tv reruns, TiVo to go, etc, for video distribution. Video can even be shot with a cellphone or any of the millions of digital cameras sold this past year. So there is an explosion of video production like what happened in the Guerrilla television days.

Art has jumped the canvas even further into real life modalities beyond our former concepts of performance art. Life itself becomes the artful act on an ongoing basis. The body and oeuvre are only spheres of influence that extend further and further from the realm of actual exhibition.

Artists are the chaotic attractors of the social field. While conventional artists may enjoy great favor, the 'strange attractors,' including leading edge and extreme artists have a special role as catalysts in contemporary life. Artists have always drawn others beyond the limits of their ordinary awareness, confronting them with another reality, initiating them into a world of profound meaning without conventional boundaries.

The beginning of the history of modern man traces back to primordial art, such as that found in the Paleolithic caves of Lascaux. From the beginning, art spoke of magic, of the supernatural, of imagination: the fantastic and disturbing. Always strong in content and aesthetic sophistication, it grew, hand in glove, with the emergence of technological skills.

The emergence of art was and continues to be an unparalleled innovation, confronting our psyches with a giant leap in human evolution whose transformative influence continues opening and exploring brave new worlds to this day. Art has been a driving force and living thread woven into the fabric of society since modern man emerged.

'Homo Negentrop'

Originally, artists were shamans, healers, and magicians. Their art revealed the compelling dreamscape of primal man, his beliefs about himself, this world, life and death, and hope for an afterlife. We might poetically call them the first negentropic humans, Homo Negentrop. Some might argue ironically that artists are a 'species' of their own. Unarguably, they created order and meaning from the chaos of existential life.

Throughout history the insightful vision of artists expressing in symbolic form the 'as-yet-unknown' (Jung) has been at the cutting edge of social change. It preceded rational and intellectual social ordering. Artists intuitively extract the gold of their unique vision from creative chaos and manifest it for others to see. Their mediums vary from graphic and print modes, to performance art, ritual, body art, film, and even more arcane forms.

Chaos theory has its 'strange attractors' that never settle down into any normal rhythm. The strange attractor dances to the innovative beat of a different drummer. Artists, particularly edge artists, function much like these chaotic attractors whose boundaries are deterministic yet unpredictable. They draw from beyond the personality, from transpersonal resources, and the wellspring of the collective human unconscious.

One doesn't have a Muse; one serves one's Muse. She comes and goes. In a sense, the artist is 'ridden' by the creative daemon that possesses him or her. That daemon, according to Socrates is one's genius, a compelling force urging us to create.

Passion (drive) and pathos are reflected in the fact that if this daemon isn't served, the artist can even become physically ill. Images, ideas and inspirations cry out to become manifested. Order or form yearns to be born from chaos; and those very acts of creation breed destruction of old systems.

The artistic life is a chaotic arc of inspiration upon inspiration, following the Muse. Artists walk what for others is 'the road not taken' (chaos theory's bifurcation or forking), sometimes going 'where angels fear to tread.' Their charismatic influence pulls others into their orbits, and the small effect of one personality potentially spreads its influence over the world (butterfly effect), sometimes over history. The history of art is one of the richest threads of our cultural heritage.

Artists wriggle among many possibilities before settling into a project. We might take poetic license calling artists 'beautiful attractors' (Wildman, 2004). The notion of a beautiful attractor draws on the dynamics of synergy. The power distribution of the artistic community is aimed at mutual aid and learning, much like the healing community. Sometimes artists even engage in deliberate public psychotherapy, impacting their immediate communities.

Artists magnetically draw the attention of others to their creations, to their vision, into the imagination, into the collective future. We might think of them as the 'indicator species' of the social ecology, the evolving cultural landscape. Orbiting far from the norm, they provide a negentropic counter-balance, an evolutionary burst, social innovation -- to conservative forms and institutions, which tend to ossify leading to stasis and decay.

Mana is personal power, also known as chi, prana, animal magnetism, or kundalini. Mana initiates the transformative process in individuals and society. Many artists have magnetic personalities. Exhibiting sensitivity to a certain kind of universal guidance, their influence emanates from their sphere of potentiality through synchronicity and serendipity, stimulating catharsis or breakthrough in others.

The effect is moreso when a movement or school of artistic expression is involved (complex feedback loops) as the reality morphing effect increases exponentially. Artists reflect and influence one another. Arguably, artists demonstrate where society may be heading. They haunt the psychic and perceptual frontiers, drawing the future into the now. How many cultural revolutions have begun in artists' communities?

Art changes the way people perceive reality, how they see life and their place in it. These negentropic innovations become embedded in social structure. Realizations, insight, empathy are implicit. They show us windows of prescient emotions and impulses, their unframed works rending the veil of the human unconscious.

The Artistic Field of Influence

'We expect artists as well as scientists to be forward-looking, to fly in the face of what is established, and to create not what is acceptable but what will become acceptable . . . a theory is the creation of unity in what is diverse by the discovery of unexpected likenesses. In all of them innovation is pictured as an act of imagination, a seeing of what others do not see . . . "creative observation." (Bronowski, 1958).

Artists, along with the other innovators, scientists and entrepreneurs, constitute only 1% of the population. We can imagine them at the top of a pyramid of influence, which trickles down to the most solidified or familial and industrial levels of society (see Appendix; Wildman, Table 1). This is clearly less true for the representational artist whose work is without symbolic value, and rather than progressive or transgressive is merely decorative or aesthetic.

Today, science and art aren't as polarized in their aims as we might think. They are perennial venues for the emergence of discovery, invention, and creation. The argument is that although science and art are social phenomena, an innovation in either field occurs only when a single mind perceives in disorder a deep new unity. Like art, science is an attempt to control our surroundings by entering into them and understanding them from the inside.

"Scientists search for a 'real' and hidden, internal visibility (invisible to the naked eye) which will confirm the limits of identity. . .This is an act of limitation which inverts its own criteria by relying on a 'depth' model of identity, which is invisible, but gives visibility through microscopic magnification. Yet this search for an invisible core of identity remains open to a visible transgression via artists who are constantly exposing these new certainties as constructs." (Sargeant, 1999).

The objective and subjective mode are not divorced from one another, anymore than the left and right hemispheres of the brain. Science adapted the artist's sense that the detail of nature is significant. Like yin and yang, they rely on one another in a dynamic meld that lies beyond the dialectic in the tension of opposites.

Thus, the metaphors of science have gained increasing relevance in the artworld. Art and science begin as imaginative speculation that guesses at a unity or gestalt. Metaphors reflect universal or holistic references and processes, connecting concepts across disciplines.

Gregory Bateson calls metaphor Nature's language. There is aesthetic pleasure in finding likenesses between things once thought unalike. It gives a sense of richness and understanding. The creative mind looks for unexpected likenesses, through engagement of the whole person.

We can draw from the organic metaphors of quantum physics, field theory, and chaos theory to illuminate the state of the arts. Physics describes the interrelationship of chaos and order as field relationships, while chaos theory describes nature's own methods of creation and self-assembly. Entropy is the tendency for any closed part of the universe to expand at the expense of order. It is a measure of randomness and disorder -- chaos.

Negentropy is the generative force of the universe. Negentropy (emergent order from chaos) is a nonlinear higher order system, a dynamically creative ordering information. Thinking, science, and art are therefore negentropic.

Negentropy, like art, is 'in-form-ative.' It is related to mutual information exchange. Information is embodied in the fractal nature of imagery and symbols, which compress the informational content of the whole. Creativity is an emergent phenomenon patterned by strange attractors, which govern the complexity of information in dynamic flow.

Negentropy is implicated in the successful development of science, economics, technology, infoscience, and art. Negentropy is the degree of order, or function of a state. It relates to the organization of societies, including subcultures such as the artworld, determining the quantity and quality of creative work

That which was formerly unmanifest comes into being. Negentropy governs the spontaneous transmission and direction of flow of information among systems. The qualities of that information are timeless. It is synergistic in that what was formerly unconnected becomes so, creating something wholly optimal and new or futuristic. In the 1920s, Hungarian scientist, Albert Szent-Gyorgyi coined the term syntropy for 'negative entropy.'

In cybernetics, a meaningful interpretation of negentropy is a measurement of the complexity of a physical structure in which quantities of energy are invested, e.g., buildings, works, technical devices, and organisms which become more complex by feeding not on energy but on negentropy. Art facilitates negentropy by expanding our general field of experience. Negentropy facilitates artistic realization by creating something from nothing.

The creative act is one of uniting the unmanifest with the manifest world in a meaningful, often symbolic, way. Such conception is relevant to consciousness, organization, structure, faith, subconsciousness, emotion, even spirituality. Above all, creativity means trusting the process. Investigation of the negentropic criterion helps us move toward a truly transdisciplinary doctrine for the artistic field of influence.

The two worlds of science and art have married in the digital revolution. Art has from the beginning required a certain amount of technical expertise, the ability to create and use technology in its execution. Only the means and their complexity have changed, evolving over the years, culminating now in a revolution based on 'ars electronica': the electronic arts.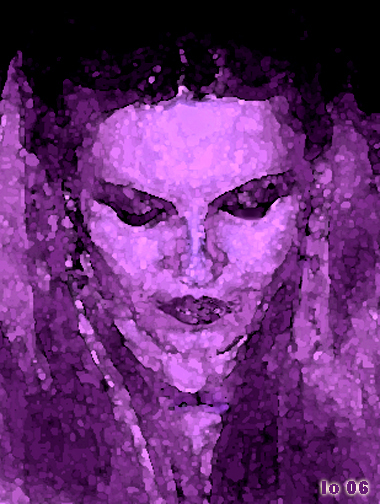 IO Web 2.0
My Contact Information
Links to Iona Miler NOW